We have a very special class coming up in May, 2016!
SAVE THE UNIVERSE WITH SUBLIME EXPLORATIONS OF YOUR OWN DEAR, TRUE CONSCIOUSNESS
Presented by Jesse Austin
Saturday, May 14, 2016, 1 pm to 5 pm
at Waves of Change, 115 Liberty St., Petaluma, CA

$55, Please call 707-474-2508 to pre-register.  No drop ins.  Class fills up quickly, so call right away to reserve your seat.
This event seminar, filled with chanting, visits from the beloved departed, encouragements and challenges for the living, and your own thrilling contentment, is about experimenting with spirit, with consciousness, with the fundamental concepts of existence.  You are alive and aware in several realms. Exploring Your Prime Directives The purpose of this event seminar is to explore spirit, to understand and express our prearranged powers, and to have unpredictable, playful fun.
Before birth you made plans – these are your Prime Directives.
Playfully determine your cherished goals in this earth life.
Yes, you have angels.  Yes, you need to listen to, to participate with, and even to surpass your guides.
Everything is spirit.  Learn to play with energy, with elusive vibrations, with the fundamentals of belief.
Your personal explorations into the unfathomable realms of your own expanded consciousness is the foundation – the solution to human survival.
You live at a time of world crisis; of global warming, of random and endless wars, of unchecked violence, of failing religions.  You chose this time because you intended to save the world.  Through your efforts, life will flourish in the time of your grandchildren.  Your job: Become a dream scientist.  Become a quantum physicist of consciousness.  Dare to dream a sane universe.  Use the powerful inner tools of your innate consciousness to make it happen. Psychic Medium Jesse Austin Jesse Austin has been a practicing psychic medium for more than thirty years.  Jesse has facilitated hundreds of classes, seminars and large events on the subjects of spirit, and personal understanding and fulfillment. "Jesse uses a combination of lazar-like intuitive abilities, wondrous mediumship, hilarious randomness, entertaining, mischievous human charm, spirit wisdom – and he knows how to promote and play with the elevating power of groups (and their spirit friends).  Jesse is a sensational, tender facilitator, psychic medium, entertainer and inspirational speaker."
Private Psychic Readings by Jesse Austin
90 minute in-person readings in Petaluma: $195 to $235 sliding scale, includes recording. 
Phone readings can be scheduled at any time.  $125 – $165 (No recording provided, but you may record on your phone.)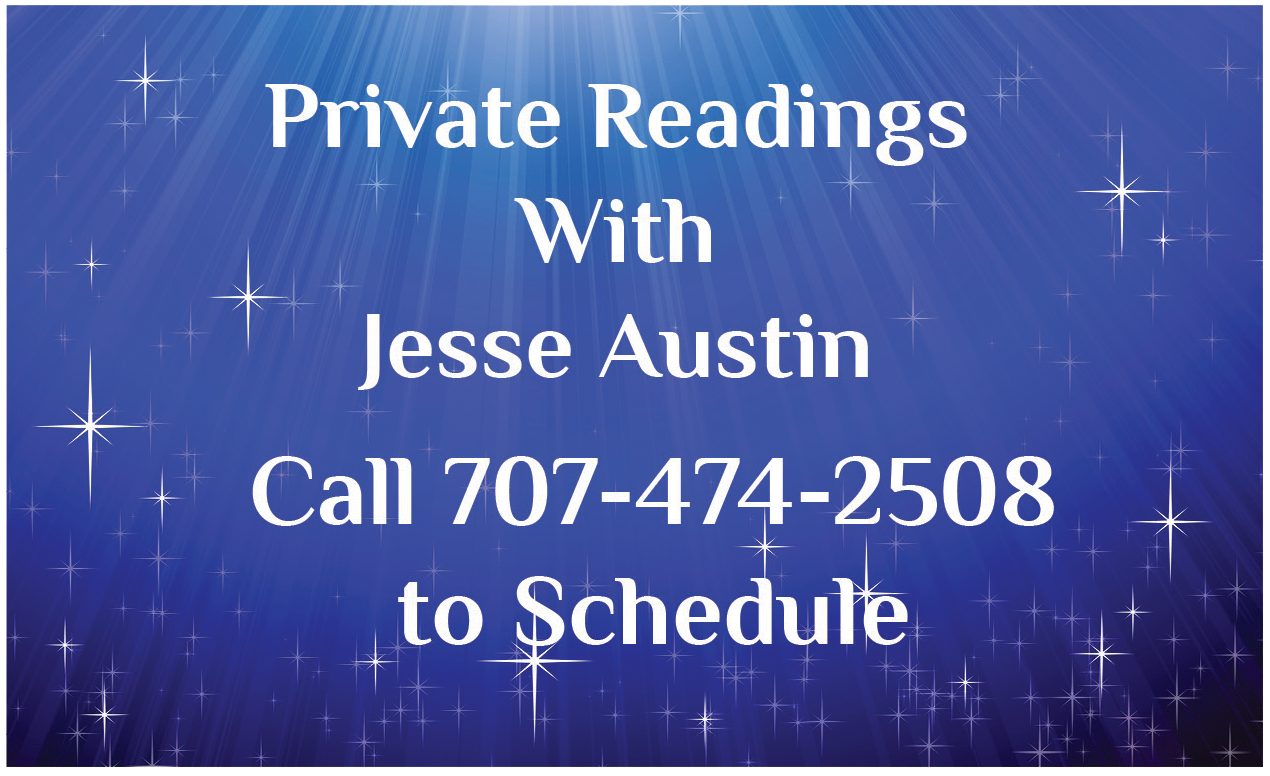 Jesse's goal is the greatest good for the greatest number.  His methods are to start with the client saying their name.  He listens to the vibration of their voices and his guides give him info in three areas:
–      The client's current situation
–     Connections in the client's childhood and/or other past lives.
–      The client's power
Clients are encouraged to ask questions about problems, what they are seeking, departed love ones (including pets) and how they can understand and express their greatest fulfillment.
Call 707-474-2508 to schedule a reading with Jesse Austin.